Uber Insurance - Lyft Insurance
Las Vegas, Nevada
---
Questions About Ride-Sharing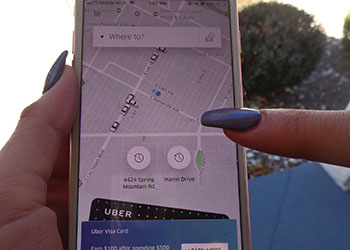 The ride-sharing services like Uber and Lyft are without a doubt very convenient and cheaper alternative to regular taxi services.
The ride-sharing services also bring many questions from people who want to drive for Uber or Lyft in Las Vegas.
Typically, the most common questions evolve around:
a. What do I need to know before becoming a driver for a ride-sharing company?
b. How the Uber or Lyft insurance works?
c. What is ride-sharing insurance and where to buy it?
d. What to do after the Uber car accident?
e. Do I need to hire an attorney if an Uber driver is involved in an accident?
Before Becoming a Driver
Knowledge is power. If you are planning to become a driver for a ride-sharing company, you need to be prepared. Here is a short list.
Be very comfortable using GPS on your mobile phone
Know the area around the airport since many trips will come from the airport or to the airport
Know the pick-up areas in Las Vegas hotels and McCarran airport and and the fastest way to get there
Feel comfortable dealing with clients who are not always polite and often under the influence of alcohol
Be prepared that your services will be rated by your passengers
Since the Uber fare rates automatically increase when demand increases (e.g., holidays, sporting events), you may want to schedule your work around these peak hours
You can be a driver for different rider-sharing companies at the same time, as long as you don't discuss which company you prefer with your clients
Contact your personal car insurance company and let them know that you will be driving for Uber, Lyft or any other ride-sharing service. They will add a special clause to your personal insurance policy.
You need to know exactly what to do and where to call if you got in an accident. Different scenarios are involved and the process of submitting a claim and reporting an accident to your ride-sharing company is different as well.
Some of your passengers will be rude, condescending, or just plain weird, and you have to handle them all
It is highly recommended to have a dash cam installed in your car. This will protect you as a driver against any unwanted accusations.
Does Uber or Lyft Insure Its Drivers in Las Vegas, Nevada?
Similar to a taxi, Uber and Lyft have commercial car accident coverage, which is in effect when you have a passenger in a car or you are on a way to pick up a passenger. This insurance covers all parties involved, which includes the driver and the passengers.
If all other cases you are covered by your own car insurance.
Important: Even when Uber or Lyft commercial insurance is in effect, the driver is still responsible for paying a $1,000 deductible per accident (if you were driving for Uber) or $2,500 deductible (if you were driving for Lyft.
Limited Extra Coverage
If, during the accident the mobile app was ON and driver's personal insurance denied a claim, in Nevada, Uber and Lyft will provide a limited coverage of $50,000 per injured person with a group coverage policy of $100,000. Property damage, such as damage to another car, is $25,000.
Driver's Car Insurance
Your car insurance provides liability coverage only if you use your car for personal purposes. If the car is used to make money (like driving for Uber or Lyft) and you didn't specify it in the contract, your insurance company doesn't have to pay liability claims. Moreover, they most likely will drop your coverage.
One of the reasons is that the premium that you pay for your personal car insurance is calculated based on your personal usage. Since the Uber and Lyft drivers spend more hours behind wheel than any average car driver and since they drive and text at the same time, their chance of getting in an accident is much higher.
So, if you decided to become an Uber driver or a Lyft driver, you must contact your car insurance company and ask them to add the ride sharing clause to your policy. Your insurance premium, most likely, will go up, but not much, between $10 - $20. Some insurance companies don't increase the premium at all, when they add the ride sharing clause. It depends on the company.
Price for Ride-Sharing Insurance
Just as with any car personal insurance, the premium for the ride-sharing insurance varies and depends on many factors - your previous driving record, your age, marital status, condition of your car, your city and state. You may also get a discount, if your car insurance is bundled together with other insurances from the same company (e.g., the homeowners insurance).
It is recommended to get car insurance quotes from different insurance providers before making a final decision.
Who Offers a Ride-Sharing Insurance in Nevada?
At the time this article was written, Farmers insurance, Allstate insurance, Liberty Mutual Insurance, and Mercury insurance offered ride-sharing insurance policies for Nevada drivers.
Contacting Insurance Company
If the accident happened when a passenger is in your car or if you are on route to pick up a passenger - contact the ride-sharing company insurance directly. If the accident happened when you just started your shift or between passengers - contact your own car insurance company. In both cases you are required to report the accident to your ride-sharing company.
Car Accident Lawyer Can Help
Whether you were a passenger in an Uber or Lyft car, a pedestrian, bicyclist, or motorcyclist injured in an accident caused by an Uber or Lyft driver, or you are an Uber or Lyft driver injured in an accident, you want to submit a liability claim and get monetary compensated for your past and future medical expenses, your vehicle repairs, lost wages and your pain and sufferings.
The claims process for the ride-sharing companies is different compared to regular car accidents. First, multiple insurance companies are involved. Second, a 3rd party insurance is involved - if a person responsible for the accident is not the Uber or Lyft driver. Third, multiple injured parties may be involved in a lawsuit. With the rise of Uber Pool services, we also see the rise the multi passenger accidents.
Nevada is a comparative negligence state and the rules of comparative negligence apply to all Uber and Lyft accidents.
The Law Offices of Heshmati & Associates handles liability claims against ride-sharing companies all the time. Even though we cannot disclose the received settlement amounts, we have positive experience dealing Uber and Lyft commercial car insurance. Most of our clients are happy with the results.
If you got in an Uber or Lyft accident, call us at 702-432-1000.
The initial consultation is always free.
The attorneys at Heshmati & Associates take all personal injury cases on contingency basis, which means – you don't have to pay until we get you money.
Last updated on January 3, 2018.
Related Articles