Parviz A. Heshmati, Esq.
---
Parviz Heshmati Bio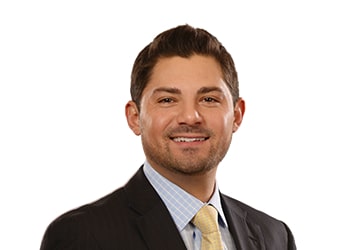 Parviz Aaron Heshmati was born in El Paso, Texas and raised in Las Vegas, Nevada. He graduated from Bishop Gorman High School, received a Bachelor of Science in Accounting from the University of Nevada (2004) and a Juris Doctorate from William S. Boyd School of Law (2008).
Parviz received numerous awards for his excellence in criminal defense. He has a reputation as a honest and ethical attorney in the Las Vegas legal community.
Parviz always puts his client's interests first. From being a tireless advocate for people in the criminal justice system to being a voice for the injured and ignored.
Mr. Heshmati strives to solve his clients' legal problems as effectively as possible and he delivers results with every case and every client. Mr. Heshmati takes his commitment to his clients and the community very seriously. He works hard to earn the trust of his clients and works even harder to keep it.
For years, Mr. Heshmati has been the go-to lawyer for individuals charged with crimes in Las Vegas. Parviz has handled thousands of misdemeanor and felony cases ranging from driving under the influence (DUI) and battery domestic violence (BDV) to high level drug trafficking, sexual assault charges and first degree murder. No matter what the case is, being prepared is his highest priority.
While at law school Parviz Heshmati co-founded La Voz, the Latino/Hispanic Law Society and served as the vice-president on the society's executive board (2006 - 2008).
In 2010, Mr. Heshmati founded Heshmati & Associates Law Offices. In 2012, his brother Parish Heshmati joined the firm, adding civil / personal injury representation to their list of client services.
When not working, Parviz enjoys playing tennis and watching old movies. His wife, also an attorney, and their two children keep him involved in a long list of other activities.
Bar Admission
State Bar of Nevada
State Bar of District of Columbia
The Ninth Circuit Court of Appeals
United States District Court
Clark County Bar Association
Education:
William S. Boyd School of Law, University of Nevada, Las Vegas, Juris Doctorate (J.D) (2008)
University of Nevada, Las Vegas, Bachelors in Accounting (2004)
Awards
"Rising Star" 2015 and 2016 by Super Lawyers Magazine (Less than 2.5 percent of lawyers receive a Rising Star award in their career.)
"Top 100 Trial Lawyers" 2013, 2015, 2016 by The National Trial Lawyers Association
"10 Best by State" 2015 by American Institute of Criminal Law Attorneys
"10 out of 10" Avvo Rating
Special Government Appointments:
Clark County Pro-Tem Judicial Referee (2015-2016)
Special Prosecutor for the City of Las Vegas (2012-2013)
Legal Associations:
Nevada Trial Lawyers Association
Member National Association of Criminal Defense Lawyers
Member Association of Trial Lawyers of America
Notable Cases:
2017 State of Nevada v. Lynn, theft, 39 felony counts, all dismissed
2016 In Re Petition Debebe (contested record seal)
2016 Guzman v. Interstate Trucking (semi-truck accident)
2015 State of Nevada v. Duarte (battery domestic violence strangulation)
2014 State of Nevada v. Fuller (homicide)
2014 United States of America v. Cruz (drug trafficking)
2013 United States of America v. Vizcarra (drug trafficking)
2012 State of Nevada v. Ibarra-Cruz (drug trafficking)
2011 State of Nevada v. Castrovillalta (arson)
2010 State of Nevada v. Mims (sex assault)
Contact Info
Contact Mr. Parviz Heshmati to speak to with him directly if you have been arrested or planning to file a personal injury lawsuit.
Phone: 702-432-1000
E-mail: parviz@halo-attorneys.com
Read more about Mr. Heshmati's most recent case results.
Parviz Heshmati in the News
New DUI Laws in Effect in Las Vegas - Fox5 Vegas News
Salmonella Food Poisoning Lawsuits- Fox5 Vegas
Criminal Defense: Questions Mount - Las Vegas Sun
Probation Revoked - PV Times
Recreational Marijuana Laws - Channel 8 LV

Parviz Heshmati frequently appears in daily news segments of Las Vegas KTNV Channel 13 and Channel 8 Las Vegas.
Law Video
Giving Back to the Community
Heshmati & Associates are proud sponsor of:
• Club Christ After School Program
• The Huntridge Foundation
• Sri Lanka America Association of Las Vegas
P. Heshmati Traffic Judge