Tourist Arrests in Las Vegas, Nevada
---
Arrested on Holiday or Vacation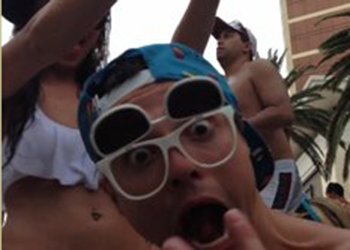 Most commonly, out-of-state visitors get arrested for:
Solicitation of prostitution
Illegal possession of drugs
Domestic violence
Driving under the influence of alcohol (DUI) or drugs
Disordely conduct
Trespassing
Drinking in public
If you are a tourist and you have been arrested while staying in Las Vegas, call us at 702-432-1000 to speak with a criminal defense attorney directly. We represent out-of-state and international travelers accused of crime in Las Vegas.
Initial consultations are always free and confidential.
Is Solicitation of Prostitution a Crime in Las Vegas?
Yes, prostitution is illegal in Clark County which includes Las Vegas, Nevada and solicitation of prostitution is a crime.
The Las Vegas metropolitan police department regularly sets up undercover sting operations in which they send attractive young female and male cadets to pose as prostitutes. Usually, this happens on the casino gaming floor, but we had seen cases in which sting operations were conducted online via classified Ads sites, such as Craigslist, or social networking sites, such as Facebook. The Las Vegas adult content section of Backpage.com was shut down in January 2017, but other online sites still exist and routinely monitored by undercover agents and detectives.
Police Sting Operations
We get many e-mails from people, asking, "How common are Las Vegas police escort stings?" or "How often Las Vegas police carries out prostitution sting operations?"
The short answer is, "The police conduct escort stings REGULARLY in Las Vegas." So, if you thought that it happens only on Mondays, Tuesdays or the 1st day of every the month - think again.
If you or someone you know have been arrested for solicitation of prostitution in Las Vegas, Henderson, North Las Vegas, you need to hire a criminal defense attorney with experience in these types of cases. We invite you to call us at 702-432-1000. We routinely resolve solicitation of prostitution charges and you don't have to travel back to Las Vegas for future court dates.
Tourist Arrests: Drugs
Frequently, tourists are arrested while consuming any illegal narcotics or possessing illegal narcotics on the gaming floors of casinos. Many people are detained by nightclub security and arrested for possessing illegal drugs while at a nightclub or pool party.
And, for your information, over 50% of hotel security busts happen in the bathroom stalls.
Tourist Arrests: Battery Domestic Violence
Another very common criminal charge in Las Vegas is a battery domestic violence - a physical and verbal abuse against family member, spouse, dating partner or a housemate.
Sometimes, tourists have too much to drink and get into a loud argument. They forget that in hotels, casinos, nightclubs there are security guards everywhere and surveillance cameras recording everything.
So, if you and your significant other got into a fight, remember to keep it private and avoid unwanted physical contact.
In Clark County, which includes Las Vegas, when an allegation of domestic violence has been made, the police are REQUIRED to arrest a party.
If it happened to you, you need to hire an attorney.
Tourist Arrests: DUI or DUID
Increasingly, Las Vegas visitors get arrested for driving under the influence of alcohol (DUI) or drugs (DUID). Many things contribute to this. Some being:
Alcohol is plentiful and even freely available
Many restrictions on alcohol that are common in other cities do not exist in Las Vegas or are loosely enforced
Outdoor pool parties and clubs during excessive heat waves
However, DUI laws in Las Vegas are strictly enforced. If you are a tourist, arrested for DUI, call us at 702-432-1000 to discuss your case.
Tourist Arrests: Warrants
If you are an out-of-state visitor arrested in Las Vegas, you must take these charges very seriously. You can't skip your hearing date – a bench warrant will be issued for your arrest and this warrant will stay on your record forever or until you appear in court. Warrants never expire. Having an active warrant may show during your background check regardless of what state you live in.
When Foreigners Get Arrested
If you are a foreign national and have an active warrant on your arrest in the U.S., you may have severe immigration consequences. You probably will be able to leave the country and it is up to the country you are visiting, to allow you entry or not.
However, you may have a major problem when you decide to come back to the U.S.; you can be denied the entry to the U.S. or you can be arrested at the border.
What to Do
If you are a Las Vegas visitor and facing criminal charges, the right way to handle it - to hire a good criminal defense attorney, resolve the charges and then - seal your criminal record.
Our law firm provides record sealing services.
Being Charged vs. Being Convicted
Just because you are charged with a crime, it does not always mean you will be convicted of that charge. Initial charges are routinely negotiated to lesser charges. And, in some cases the charges can be dismissed. There are different reasons for these great outcomes. For instance, there may be a lack of sufficient evidence. Or, the police may have acted improperly. The quality of your legal representation plays a very important role.
We Can Help
If you have been arrested or charged with a crime while on vacation in Las Vegas, call us at 702-432-1000 to discuss your case. We are here to help. We successfully reduced and even dismissed criminal charges for numerous out-of-state visitors. In most cases, our clients didn't have to fly back to Las Vegas for the hearing. If you have no prior criminal record, we almost always can waive your presence for the first court date.
You can also fill out the contact form or send an email to parviz@halo-attorneys.com.
Every e-mail goes directly to attorney Parviz Heshmati's cell phone. Once he receives your message, he will call you back as soon as possible.
We are discreet. We will communicate with you via text, e-mails, Skype, phone, whatever you prefer.
The office of Heshmati & Associates is in downtown Las Vegas at 515 S. 7th Street.
Walk-ins are welcome!
Initial consultations are always free.
Payment plans are available.