Las Vegas Open Container Law and Tourist Arrests
---
Open Container Violation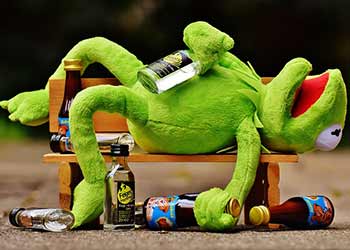 In Las Vegas, an open container violation usually results in a citation issued by the police officer. Actual arrests are very rare in Las Vegas.
Is It a Criminal Charge?
Yes. An open container charge is a crime in Nevada. It requires a court appearance and can, potentially, smear your clean arrest record.
If you were cited for open container, you should to hire a criminal defense attorney to represent you in court.
We invite you to call us at 702-432-1000 to discuss your case.
Glass Containers - Aluminum Containers
It is illegal to carry a glass container of alcohol on the Strip. On Fremont Street (which is part of Las Vegas), both, the walking and drinking alcohol from glass containers and aluminum cans are prohibited.
Furthermore, it is NOT allowed to have an alcoholic drink within 1,000 feet of a:
church,
synagogue,
public or private school,
hospital,
hospital,
withdrawal management facility or
homeless shelter.
Drinking and Driving in Vegas
NRS 484B.150 covers the laws of drinking and driving.
Nevada law forbids anyone from drinking an alcoholic beverage while they are driving or in actual physical control of a motor vehicle.
Can You Drink as a Passenger?
It is unlawful for anyone to have an open alcoholic beverage container in the passenger area of a motor vehicle while the motor vehicle is being driven.
Can You Drink as a Passenger in Uber or Lyft Car?
If you are a passenger in an Uber, Lyft or any ride-sharing company car, it is unlawful to have an open container and consume alcohol at the passenger seat.
Taxi or Public Transportation
It is illegal to have an open container if you are a passenger in a taxi or any form of public transportation.
Can You Drink in a Limo and Party Bus?
Yes. In Las Vegas, limos and party buses carry a special license for this activity and yes, you can consume an alcohol while being in a limo or a party bus in Las Vegas.
Is an Open Container Charge a Misdemeanor?
Yes. An open container is a misdemeanor charge in the state of Nevada. Because an open container charge is a misdemeanor, the charge can show up your background check and can create many problems when you are applying for a job.
Fine for Open Container
Like many other misdemeanor charges in Nevada, an open container charge is punishable with a fine up to $1,000 and up to 6 months in jail, however this maximum charge is hardly ever imposed.
Usually, the penalty is a fine, that also can be negotiated. Call us at 702-432-1000 for more information.
Can You Be Arrested?
Most of the time, the open container violation results in a citation, but if you start fighting with a ticketing officer or behave inappropriately while the officer is given you a citation, you can get arrested. Other criminal charges can also accompany an open container charge.
What Happens Next
After the citation is issued, there will be a hearing date and you must appear in front of a judge. If you are a visitor or a tourist in Las Vegas, normally, the attorney can waive your presents, and you don't have to fly back to Las Vegas to appear during the hearing.
Waiving Your Presence
Some factors for waiving a client's presence include: past criminal history, facts surrounding the arrest or citation, other open cases or accompanying charges. But, as a rule, if the client has no criminal history, we can waive the client's' presents in court.
We Can Help
The open container laws in Las Vegas can be very confusing. If you need any additional information or you want to discuss your case, call us at 702-432-1000.
We serve clients in Las Vegas, Summerlin, North Las Vegas, Henderson and the rest of Nevada.
Related Articles