Parking Lot Accident Laws in Las Vegas, Nevada
---
Car Accident in a Parking Lot - Who Is Liable?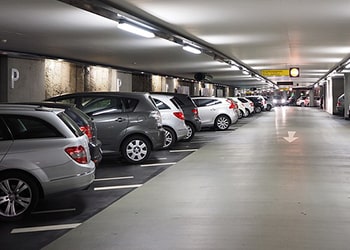 The law for parking lot accidents is generally the same as for typical auto accidents that occur on the street. Most large parking lots have stop signs and other traffic control devices for motorists to follow. Drivers in parking lots have a duty to follow these devices and to use caution when backing out of a stall.
Often, the police will claim that they cannot issue a citation or determine who is at fault because the parking lot is private property. But, you may still have a claim against a careless driver, even if the driver was not cited.
Parking Lot Accident Hit & Run
Hit and run accidents in parking lots are common. If you were the victim of a hit and run accident in a parking lot it is important that you call the police right away to report the accident. You should also fill out a statement at the nearest police station and contact your insurance immediately.
Surveillance Video Evidence
Accidents in the parking lot of a Las Vegas hotel, nightclub or casino may be unique in that way - there is a higher chance that there will be surveillance video. This video evidence is crucial when the accident is a hit and run kind of situation.
The attorney can issue a Preservation Letter to the business that owns the parking lot to tell them that they should save the video evidence. This letter is most effective when it is issued immediately after the accident.
Making Insurance Claims
Insurance companies like to classify parking lot accidents as "soft tissue" cases, which means they believe - if there is any injury at all, it is only "soft tissue." A soft tissue classification also means the insurance will not want to settle the case for its full value and will often provide offers that are even less than medical bills. As a result, these kind of cases often end up in arbitration.
In Las Vegas, it is especially important in parking lot accidents that your vehicle is inspected by a competent body shop who is independent from the insurance company. Your injuries should also be very well documented with your doctors, so that your personal injury case has the best chance to avoid a "soft tissue" classification.
If you have any questions and want to speak with a car accident attorney directly, call us at 702-432-1000.
Paying for Medical Bills
If you got injured in a parking lot accident and need medical treatment, you have a few options to pay for your medical bills.
First, the at fault driver may have a car accident insurance. This is why so important to get the insurance information from the at-fault driver and witnesses' statements, when possible.
Second, your car insurance may have a Medpay coverage. The Medpay will go toward your doctors and other medical providers that you see for injuries related to the accident.
Third, if you have an Uninsured or Underinsured motorist coverage, you can file a claim against your own car insurance.
You have a valid uninsured motorist claim, if you are a victim of hit and run accident and the driver is NOT caught, or if he is caught but does not have insurance.
It is important to mention that in Nevada, insurance companies are obligated to pay for your injury only up to their contractual limit.
Private Parking Lot Accident
Many people ask, "Can I sue a private parking company owner, if I am a victim of a hit and run parking lot accident in a PAID parking in Las Vegas?"
Unfortunately, the answer is no. In most situations you will not be able to recover against the private parking lot. There may be some instances where you may have a case based on what the parking company knew or should have known regarding the risk of accidents in their lot. If you have enough evidence to prove it - your parking lot accident will become a premises liability accident.
We Can Help
There are many things that a good car accident attorney can do for you after the parking lot accident.
First, the attorney can write a Preservation Letter, an official demand to protect the evidence of the accident before it is destroyed.
Second, the attorney can request surveillance tapes and may find the license plates of the car caused an accident. The attorney then can file a claim against their insurance.
Third, the attorney can negotiate much better compensation for your claim than you will do yourself.
Every case is different. Call us at 702-432-1000 with any questions you may have. Initial consultation is always free.
The attorneys at Heshmati & Associates serve clients in Las Vegas, Summerlin, North Las Vegas, Henderson and the rest of Nevada.