Getting Reimbursed for Medical Treatment and Auto Body Repair After First Car Accident
---
First Time Car Accident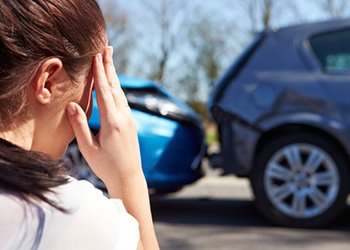 Any car accident is an overwhelming experience, but being in a car accident for the first time is probably the worst. If you want to know what to do in the first 30 minutes after your car accident (the most crucial part of any car accident legal case), we recommend you reading our article Car Accident Checklist.
However, there are some common questions our clients ask that are worth addressing.
First Car Accident:
Feeling Pain 2 - 3 Days Later
Many people are very concerned if the insurance will reimburse for their treatment, when they feel pain a few days after the accident.
The truth is, many people do not feel pain right after an accident because their bodies are still in shock. But, as time goes on, the pain will start to come out, often in a person's back and neck. Limbs that may have slammed against the vehicle will also redden, bruise, or throb with pain.
As long as you receive medical treatment not more than one (1) week after the accident, you still have a valid claim to get compensated.
Our law firm has experience working cases where pain sets in a few days after the accident. Call us at 702-432-1000 to speak with a car accident attorney. Often, on a phone we can tell you what could be done in your case in order to get a reimbursement for your medical treatment.
First Car Accident:
Having a Pre-Existing Condition
Insurance LOVES to deny claims or give low ball offers based on pre-existing conditions. In most cases, you should still be receiving compensation for extra damage that the accident has caused. Often, this extra damage puts you in a condition that was far worse than before the accident.
The only way to force the insurance to pay is to have medical experts evaluate your condition as part of your treatment plan. This process is fairly simple, but is often overlooked.
First Car Accident:
Where to Fix My Car?
If the car accident is not your fault, you have a few options here.
Choice #1. Typically, the best option is to get an estimate for your vehicle repair from an independent auto body repair shop. This way you are getting an independent assessment of your vehicle's damage.
The auto body repair shop will then file a claim directly with the insurance company of the at fault driver and get paid for their work, replacement parts and the cost of the rental car they provided to you. If you don't know any independent auto body repair shop, ask your attorney to recommend you one or call us. We can provide you with a list of auto body repair shops we worked in a past and you can choose the shop that you prefer from the list.
Choice #2. File a claim with your own insurance - if you have a "full coverage." The "full coverage" auto insurance means your own insurance will fix your vehicle regardless of who is at fault for the accident. The downside - you will have to pay a car insurance deductible, which can sometimes be over 500 dollars. If you are not at fault for the accident, then at some point your insurance should reimburse you the deductible.
Choice #3. Have the adverse insurance to do your vehicle repair. Although this option is better than no one fixing your car, the adverse insurance may send your vehicle to an auto body repair shop that will not provide quality care or quality parts to your vehicle. In addition, the process of fixing your vehicle may take longer, and customer service, from time to time, suffers too.
First Car Accident:
Vehicle Is Totally Destroyed
When a vehicle is so badly damaged that it can no longer drive, then most likely the insurance will deem the vehicle a "total loss." This means that the cost to repair the vehicle is more expensive than the market value of the vehicle. The insurance must use a neutral standard for pricing the value of the vehicle. A common standard to use is the Kelly Blue Book.
When a vehicle is a "total loss", the insurance will pay out the value of the vehicle, first, to any lien holders and then to the registered owner of the vehicle.
Heshmati & Associates:
Car Accident Lawyers
If this is your first car accident and you want to get compensated for your medical treatment, or you don't know how to deal with auto body repair shops in Las Vegas to get your vehicle fixed quickly, call us at 702-432-1000.
Heshmati & Associates serve clients in Las Vegas and throughout the State of Nevada.
Related Articles