Understanding Back Injury Legal Claims in Las Vegas, Nevada
---
Back Injury + Back Pain After The Accident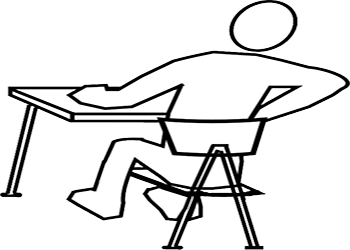 The most common injuries after a car accident is to the back. In the machine driven world that we live in hazards can be just around the corner. And yet, even the oldest reasons for back injuries, such as slips and falls, are still with us.
What many of us don't realize is that the objects that cause back injuries are owned by others. And when those objects hurt you because another person made a mistake you are entitled to compensation.
When those objects cause back injuries the compensation can be very high.
Filing a Back Injury Lawsuit
Heshmati & Associates take all back injury cases on a contingency basis which means - if we're unable to collect the settlement money, we don't get paid and you don't owe us anything.
Causes of Back Injuries
Although many things can cause back injuries not all back injuries are personal injury cases. Talking to a good back injury attorney is the best way to know if you have a case or not. However, some common sources of back injuries which are usually personal injury cases are the following:
Car accidents
Wet floor slips
Bus accidents
Carpet trips
Truck accidents
Falling objects
Acts of violence
Medical Malpractice
This list is not a very comprehensive list. There are endless reasons that can turn your back injury into a serious personal injury case.
Cost of Treatment
Just as back injuries are caused by a variety of reasons, so too, there are a variety of treatments available. The cost of back injury treatments varies dramatically based on the procedure. Chiropractic treatment can cost thousands of dollars while necessary surgeries can cost hundreds of thousands of dollars.
And, of course, there are a variety of treatments in between chiropractic treatment and surgery. Some of these include the following:
Rehabilitation
Massage therapy
Nerve stimulation
Physical therapy
In personal injury cases the insurance company is supposed to pay for the victims medical treatment plus for pain and suffering.
Recovery From Back Injuries
Some back injuries from car accidents can heal in a matter of months with proper treatment. But others may be with the victim for the rest of their lives. Plus there could be complications discovered many decades later.
A victim with back injuries is not only entitled to get money for their immediate pain and injury. The back injury victim is also entitled to money to compensate them for long term pain. This kind of reward is called future damages. Call personal injury attorney at 702-432-1000 if you want to learn more.
Back Injury Settlements
Back injury claims can be very diverse. We differentiate them based on what kinds of objects were involved that caused the back injury.
In general the law places most back injury claims in the category of negligence. Negligence means a person or company made a mistake which caused your injury.
Another important detail - your case can be treated very differently based on the person responsible for your back injuries.
Injury From Negligence
Individual. The most common cases involve individuals who mistakenly hurt others. In these cases the individual may or may not have insurance to pay for their mistake. A good back injury attorney knows to check as soon as possible whether the individual who is responsible has insurance and how much is the policy limit.
Corporation. Companies almost always have insurance to cover the mistakes of their employees. In back injuries that are caused by a corporate employee or the employee of a business, the key issues can be whether the company is also liable to pay you money for your back injuries.
Government Agency. Special laws come into effect when the government agency is responsible for your back injury. These cases can be very complex and you need a help from a knowledgeable back injury attorney.
Statute of Limitations For Back Injuries
The time limit to file a lawsuit for a back injury depends on what kind of accident caused the back injury. For motor vehicle accidents the time limit is two years from the date of the incident. Two years is also the time limit for a back injury related to a slip and fall accident. But for medical malpractice, the time limit is only one year.
The time limit is very important because once the time limit has run there is no longer a case against the person who hurt you. If you are unsure how much time you have to file a lawsuit call us at 702-432-1000. We are here to help.
Heshmati & Associates:
Las Vegas Back Injury Attorneys
The attorneys at Heshmati & Associates have experience handling back injury legal cases.
Fill out the contact form on this website and a back injury attorney will call you within 24 hours.
Located in downtown Las Vegas at 515 S. 7th Street, the firm serves clients throughout the State of Nevada.
Related Articles