Wrongful Death Cases in Las Vegas, Nevada
---
What Is a Wrongful Death?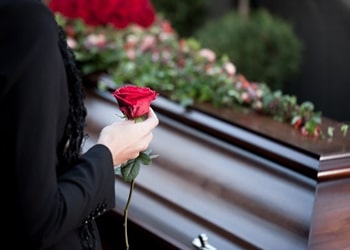 The term wrongful death applies to any case were a person has died as a result of the mistake of another person or company.
In Nevada, we see many wrongful death cases that are associated with:
This list is far from exclusive.
Even so Las Vegas tries to change the law to prevent wrongful deaths, accidents still occur.
Who Can Recover Money?
The law on wrongful death cases in Nevada is codified in NRS 41.085. But, essentially, Nevada law allows two kinds of person's to recover money in a wrongful death cases:
The deceased person's estate and
The heirs of the deceased person.
Nevada law may limit their recovery in certain wrongful death situations. If you have any questions or want to discuss the specifics of your case, call to speak with a wrongful death attorney directly at 702-432-1000.
Estate and Wrongful Death Claims
Although the victim of another person's actions may have passed away, their estate can recover monetary damages for their loss. These monetary damages can then be passed on, based on:
Heritage or
The deceased person's will.
An estate can be compensated for (a) medical bills, (b) funeral expenses, (c) punitive damages.
Heirs and Wrongful Death Claims
The second kind of person, who can recover money damages for a wrongful death is the deceased person's heirs. These individuals fit into a special definition that Nevada law determines. Because the law in this field can be counter intuitive (for example, stepchildren are not allowed to recover) one should always talk to a wrongful death attorney about whether they meet the legal definition of "heirs".
Heirs can recover money damages for:
Grief
Loss of consortium (available for a grieving widow or widower)
Loss of probable support
Pain and suffering
There are many good reasons a grieving heir should be able to recover in a wrongful death case. And, under Nevada's wrongful death statutes, the law recognizes more of them than an heir may realize.
If you are planning to file a wrongful death lawsuit, call us at 702-432-1000. We are here to help.
Damages in Wrongful Death Cases
Nevada law has made great strides to try to compensate at best as the law can provide for those whose lives have been affected. Because of this forward looking approach, damages in wrongful death cases can easily reach millions of dollars. However, there are many factors to consider in any wrongful death case.
These include:
Insurance coverage
The type of defendant
The type of activity involved
The location and time of the accident
Every case is unique and we always treat your case with this truth in mind. Often, an intense factual investigation into the accident is required to parse out important facts that can have a huge bearing on a wrongful death case.
Wrongful Death Settlement Amounts
The Nevada jury system tries to place people of the community in the jury box to decide wrongful death cases. If a wrongful death case is taken to trial, then 12 individuals from potentially diverse backgrounds and histories will decide on the liability of the person or company responsible and on a monetary award.
Insurance companies don't typically like to take wrongful death cases to trial - a sympathetic jury can end up rewarding far more than even the family of the victim ever expected. Most insurance companies prefer to settle the case before it reaches the trial date. However, many factors go into whether an insurance company will even want to settle.
Heshmati & Associates:
Las Vegas Wrongful Death Attorneys
If you are planning to file a wrongful death lawsuit, call to speak with a wrongful death attorney at Heshmati & Associates at 702-432-1000 and learn what your legal options are.
Like all personal injury cases, the attorneys at Heshmati & Associates take all wrongful death claims on a contingency basis which means to you - you only pay us if we collect the settlement for you.
The attorneys at Heshmati & Associates Law Offices represent clients in Las Vegas and surrounding areas of Nevada.
Related Articles