Signing a Prenuptial Agreement in Las Vegas, Nevada
---
Drafting a Prenuptial Agreement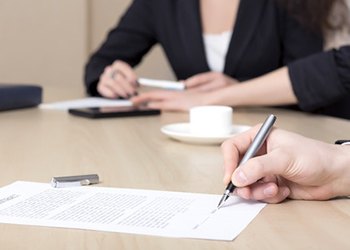 If you are planning to be married and considering a prenuptial agreement, call us at 702-432-1000. We are here to help you and your fiancé sort through many questions that couples have about signing a prenup.
What is a Prenuptial Agreement?
Under the law, marriage is considered a binding contract between two people. With this contract comes some automatic property rights (for example, shared ownership acquired during marriage; debt that happened during marriage and other spouse have to pay; the right to sell or give away a property acquired during marriage).
Prenuptial Agreement and Nevada State Law
Nevada is one of nine community property states. This means that all assets acquired during marriage are considered community property and are owned equally by husband and wife. Similarly, the debts incurred during marriage are also debts of the husband and wife. At the death of one spouse, his or her half of the community property goes to the surviving spouse unless there is a will that directs otherwise.
If you wish to avoid the community property laws in Nevada, you and your spouse must sign a prenuptial agreement. A signed proper prenuptial agreement will take control of the division of assets and debts in the event of a divorce.
Nevada NRS Rules
Nevada Statute NRS 123A.030 provides the prenuptial agreement definition.
"Premarital agreement" means an agreement between prospective spouses made in contemplation of marriage and to be effective upon marriage.
"Property" means an interest, present or future, legal or equitable, vested or contingent, in real or personal property, including income and earnings."
In addition, the NRS 123A.040 states,"A premarital agreement must be in writing and signed by both parties. It is enforceable without consideration."
Who Needs a Prenuptial Agreement
Prenuptial agreements are not just for the very rich. Below is a list potential situations where it is highly advisable to sign prenuptial agreement:
When children from prior marriages or relationships are involved. A couple with children from previous marriages may use a prenuptial agreement to spell out what will happen to their property when they die, thus to make sure their children in inherit their share of property.
Couples with or without children. Couples with or without children may simply want to clarify their financial rights and responsibilities during their marriage.
Debts before and after marriage. Prenuptial agreements can also be used to protect spouses from each other's debt acquired before and after marriage.
Small business owners. Small business owners may want to eliminate problems associated with lawsuits in the event of a divorce that might disrupt their business and/or affect the other business partners, especially in a small business or closely-held corporation.
Create Your Own Rules
Rather than letting Nevada State law making decisions in case of separation or death regarding your property and assets, you decide how you prefer each property and assets to be treated.
What Typical Prenuptial Agreement Includes?
Prenuptial agreements almost always include a full disclosure of both parties finances – assets, liabilities, and income. The rest of the prenuptial agreement is written based on your needs and preferences.
Typical prenuptial agreement included the following:
A clause that each spouse's separately owned property will remain his or her separate property during their marriage.
A clause confirming that each person is responsible for his or her premarital debts and possible post marital debts.
A waiver of the surviving spouse's legal right to claim a share of the other spouse's separate property in case of death.
A waiver of alimony, in case of a divorce.
Can You Get a Prenuptial Agreement After Marriage?
Yes, but it would be called a postnuptial agreement. There are many reasons why a married couple would want to have a postnuptial agreement:
Some provisions of your prenuptial agreement expired and need to be revisited
Circumstances changed (e.g., you have more children)
You have a major change in your assets
You are creating / updating your estate plan
If you want to create a postnuptial agreement, call us with any questions you may have at 702-432-1000 and ask to speak with our prenuptial agreement attorney.
Prenuptial Agreement Pros and Cons
Pros. Your property and assets will be better protected in case of separation or a major family change. It may also clarify any special agreements and establish some ground rules for deciding future matters.
Cons. Working on your prenuptial agreement may not be a very romantic task. It requires a lot of planning, negotiation with your fiancé, and yes, disclosing not only your personal assets, but also your debts, income and expenses.
Prenuptial Agreement Cost
The cost of a prenuptial agreement varies, depending how many provisions need to be written to protect both parties' property and assets. Call us at 702-432-1000 and we will tell you on a phone what would be the fee in your specific situation. Our prices are reasonable.
Prenuptial Agreement Attorney Can Help
If you would like to draft a premarital agreement or if your fiancé has presented you with such an agreement and you are not sure what is the right course of action, give us a call at 702-432-1000.
We serve clients in Las Vegas, Summerlin, North Las Vegas, Henderson and the rest of Nevada.
Walk-ins are always welcome.