When RV Driver is Involved in an RV Accident in Las Vegas, Nevada
---
RV Crash In Las Vegas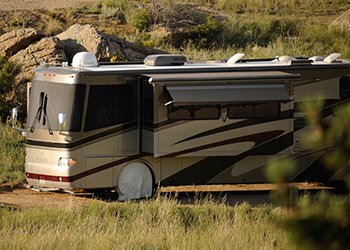 If you have been injured or lost someone you love in an accident caused by the RV driver, call us to speak with an RV accident lawyer directly at 702-432-1000. We can help you to get monetary compensation for your injuries and damages.
RV Driver's License Requirements
Some people may expect that the RV drivers have a special Commercial Driver's license, but it is simply not true. In Nevada, to drive a recreational vehicle, boat or trailer of 26,000 or heavier, you need a Non-Commercial Class A or B license plus you need Endorsement J to tow a vehicle over 10,000 GVWR.
What Causes RV Accidents
The leading cause of RV accidents on a road is improper weight distribution. Especially, when traveling uphill or downhill, the improper balance of weight causes the RV overturn or hit another vehicle or a pedestrian. Other causes of RV crashes include: the runaway trailers, poorly calculated turns, and RVs or RV trailer's manufacturing defects.
The RV drivers get distracted more often than regular car drivers, simply, because the RVs are homes where family members cook, eat, drink, sleep, or watch TV.
Fatigue is another cause of RV accidents. Unlike large commercial vehicles, where laws regulate how many hours the driver can be on a road every day, RV drivers can travel as many hours as they want, day or night.
And finally, there is a problem with RV seat belts.
RV Seat Belt Laws
Regular car seat belt laws exists, but there are no RV seat belt laws. Most of RV's have lap belt only / lap-shoulder belts in the dinette and side seating areas, but these seat belts provide almost zero protection during the crush – the wooden seat structure and cabinets easily break due to the force of a crash and increase the risk of injury or death to passengers during the accident.
Negligence and RV Insurance Claims
An RV accident claims are, in many ways, similar to the truck accident claims or car accident claims – the RV accident lawyer needs to prove that the negligence of another party caused the accident, connect that negligence to the victim(s), determine the amount of damages and file a claim to get monetary compensation for all medical bills, future medical bills, damaged property, lost wages and pain / suffering.
You have to realize, if you lost someone you love in an RV accident, the legal system cannot bring this person back. The only thing that the legal system can do for you, is to get you monetary compensations for everything you went through.
Who is Liable?
There may be more than one defendant in any RV accident, including:
The RV driver
The RV owner
The RV trailer owner
The RV rental company
The RV manufacturer(s)
The RV parts manufacturer(s)
The RV trailer manufacturer(s)
The RV trailer parts manufacturer(s) or trailer
The people who loaded the RV vehicle or RV trailer
The people who maintained the RV vehicle or RV trailer
Nevada law allows you to file a lawsuit against some or all of the defendants responsible for the RV accident.
In addition, if multiple victims were involved, under Nevada law all victims who filed a claim must be compensated for damages.
Statute of Limitations
in Nevada, the statute of limitations for all personal injury accidents, including RV accidents, is two (2) years from the date the accident. You need to speak with an RV accident lawyer to find out how your legal rights can be protected as soon as possible, before the time period to file a claim does not run out.
RV Accident Attorney Can Help
For us at Heshmati & Associates, personal injury cases are very personal. We always make sure you get the best possible outcome. Call us at 702-432-1000 to speak with RV accident lawyer or visit our office in downtown Las Vegas.
The iitial consultation is free.
The attorneys at Heshmati & Associates assists clients in Las Vegas, Henderson, Summerlin and North Las Vegas and throughout the surrounding areas of Nevada. We also serve many out-of-town and international tourists who are vacationing in Las Vegas.
All personal injury work at Heshmati & Associates is charged on a contingency fee basis. Meaning, if the RV accident lawyer cannot settle your case or win at trial, you pay nothing.
Walk-ins are welcome!