Motorcycle Accidents in Las Vegas, Nevada
---
Motorcycle Accident Lawsuits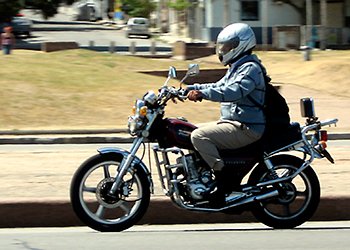 If you have been seriously injured in a motorcycle accident and are planning on filing an insurance claim or lawsuit, call us at 702-432-1000 to speak directly with a motorcycle accident attorney.
Statistics on Motorcycle Accidents
Motorcycles are two or three-wheeled motor vehicles that include sports bikes, cruisers, scooters and dirt bikes. Although riding a motorcycle can be a fun and pleasurable experience, this type of motor vehicle is extremely dangerous on the road. The risk of injuring yourself riding a motorcycle is significantly high. According to the U.S. National Highway Traffic Safety Administration (NHTSA), the rate of fatal motorcycle accidents is estimated at 72 per 100,000 accidents. This rate is six times higher than that of fatal crashes involving cars and trucks. Additionally, the rate of deadly motorcycle accidents, per distance traveled is an astonishing 35-times higher than that of cars and trucks.
Causes of Motorcycle Accidents
In addition to the traditional causes for motor vehicle accidents (such as speed, distraction, driving under the influence and weather conditions), motorcycle accidents happen too often because of the structure of roadways and highways in the US is inherently dangerous for motorcycles.
The US roadway infrastructure is specially designed to accommodate cars, trucks and other large vehicles. Little is done to account for the safety of motorcycles and other small, light vehicles. Personal protective equipment such as helmets, vests and other body armors unfortunately offer negligible protection when a motorcycle is hit on a highway by a speeding car or truck.
Furthermore, the sheer number of cars and trucks on our roadways far exceeds that of motorcycles (by several orders of magnitudes). This means that a motorcyclist is more likely to be involved in an asymmetrical crash against a car or a truck than against another motorcycle.
Finally, two-wheeled motorcycles are especially at higher risk of crashes because of their inherent instability of the road.
Types of Motorcycle Accidents
There are several types of motorcycles accidents.
The most common ones include:
Dangerous maneuverers,
Read-ending by another vehicle,
Blind-sided drivers, and
Unsafe lane changing by other vehicles.
By far, rear-ending and unsafe lane changing are responsible for the most common motorcycle accidents.
In all these types of accidents, NHTSA statistics clearly show that motorcyclists are often not at fault. In fact, 66% of deadly motorcycles accidents are caused by the driver of the other vehicle (NHTSA). Because motorcycles are small and light vehicles, even the smallest of crashes can lead to very serious injuries and even death.
Who is Liable?
The general misconception that the driver of the car or the truck is the exclusive liable party in a motorcycle accident is wrong. If you have been a victim of a motorcycle accident, the State of Nevada gives you the right to seek the liability of several people including the car/truck driver, owner, manufacturer, company management, people responsible for loading truck, etc. You can file a lawsuit against a few or all of the defendants that are deemed responsible for the crash.
What Do After the Accident
If you have been victim of a motorcycle accident, here is what you need to do:
Check your injuries and seek adequate medical help
Move yourself to a safer side of the road
Call the police
Gather as much information as possible of the circumstances and the surroundings of the accident
Exchange insurance information with the other driver
Talk to any possible witnesses
Call your insurance company
Be always careful of the statements that you make at the scene of a motorcycle accident. The other party, the police, witnesses and insurance agents may use your statements against you. Because an accident is always a traumatic experience, what really happened is not always clear at first. As a result, you should not immediately admit fault.
Dealing With Insurance
Most of insurance companies require you to report an accident within first 24 hours. Because all calls are recorded, it is important that you stick to the facts and avoid admitting guilt. Making emotional statements is not recommended.
Many clients are asking us, "Do I need to have a Police Report Number when I call my insurance comapnay?" The answer is, no. In many accidents the police still do not respond, even though they are supposed to, or they do not write a report. Also, if there is a report, the client or the client's lawyer must order it. The slip of paper that the officer provides at the scene is not a report. Finally, the insurance is capable of order the report on their own. But, for the purpose of filing a claim with your own insuarnce, you don't need to have the police report numer.
Dealing with insurance companies can be very challenging and frustrating for the average person. Insurance agents are experts in what they do and will often try to swiftly establish fault, settle cases as soon as possible and for as little money as possible. If you are in doubt and are not sure of your rights, we recommend that you immediately contact a knowledgeable attorney who handles motorcycle accidents.
We invite you to call us at 702-432-1000.
Motorcycle Accident Claims
Although statistics show that in most motorcycle accidents the motorcyclist is not at fault, there is an overwhelming bias and prejudice against motorcyclists. Because of this bias, establishing liability and settling a claim can be extremely challenging for the motorcyclist.
When a car driver or a truck driver makes an unsafe lane change and hits a motorcyclist, he / she has clearly breached the duty of care. Because the car driver has been obviously negligent, you would think that insurance companies would award the motorcyclist an adequate financial compensation. That is, unfortunately, not the case.
Without an attorney, most insurance companies will only pay between $2,500 and $10,000 to the victim, which may not even cover medical expenses. Furthermore, because most motorcycle accident lawsuits will be assigned to a public jury, you need a very knowledgeable and aggressive lawyer to defend your case.
Motorcycle Accident Attorney Can Help
If you have been victim of motorcycle accident, you need to hire an attorney who has experience with these types of cases and who can help you file an accurate and comprehensive claim.
Because the extent of injuries and damage to person and property from motorcycle accidents may not be obvious, you should not make any guess when making a claim on your own.
Motorcycle Accident:
Liability Settlements
Most of personal injury cases, including motorcycle accidents, are settled pre-trial. The motorcycle accident attorney can negotiate the settlement at any time, before and during litigation, even during trial.
Our strategy in winning cases is very rigorous and involves proving negligence of the other party, connecting the said negligence to you as a victim, determining damages and filing a claim for monetary compensation (including past, current and future medical bills, property damage, lost wages, pain and suffering).
Because the laws applicable to motorcycle accidents in Nevada are very complex and differ from those designed for cars and trucks, having a skillful motorcycle accident attorney is your best chance in getting a fair settlement.
We Can Help
In motorcycle accidents, time is always of essence. The longer you wait, the more challenging your case becomes. In the State of Nevada, the statute of limitations on most injury cases is two (2) years.
We offer free consultations for victims of motorcycle accidents. You can speak to a motorcycle accident attorney in-person or over the phone about your legal options, including your motorcycle accident settlements. House and hospital visits are also available upon request. Call us at 702-432-1000 to schedule an appointment.
At Heshmati & Associates, we pursue motorcycle accidents lawsuits very aggressively.
We work with clients in Las Vegas, Henderson, Summerlin, North Las Vegas, Clark County and throughout Nevada.
All of our motorcycle accident cases are taken on a contingency basis. You pay us only if we win your case.
The attorneys at Heshmati & Associates are proud member of National Association of Personal Injury Lawyers (NAPIL).
Additional Resources:
Motorcycle Accidents
Motorcycle Crash Causation Study. The Federal Highway Administration creates usable research studies on motorcycle accidents on America's freeways.
Highway Safety Act. NHTSA works daily to help prevent crashes for motorists and motorcycle enthusiasts.
Related Articles