Pizza Delivery Driver Accidents - Las Vegas, Nevada
---
Pizza Delivery Accidents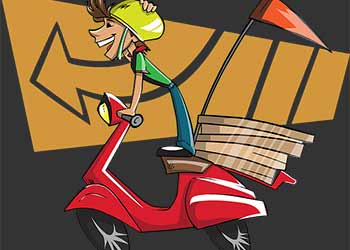 If you were involved in a motor vehicle accident with a pizza delivery driver, and the delivery driver was negligent, you have the right to sue for compensation. Call us at 702-432-1000 to discuss your case.
Why Pizza Delivery Accidents Happen?
There are several reasons for pizza delivery accidents.
Pizza deliveries must be done very fast, while pizza is still hot. The more deliveries the driver can make – the more tips they can get and tips are a big part of driver's earnings. So, pizza delivery drivers are motivated to drive fast and while doing it, they often become reckless and neglect the rules of the road.
Who is Liable?
There are multiple pizza delivery scenarios where the defendant changes. In some instances, the pizza delivery driver may be the only party who is liable. While in others, the pizza delivery company may also be liable.
Overall, if, during the accident, the driver used the company-owned car for pizza deliveries, then the delivery company is usually liable.
If a personal car was used for deliveries, then the matter becomes more complicated.
In some pizza restaurants, the driver is included in the car insurance policy for the pizza delivery business and in some cases not. Some pizza shops are so small that they don't even carry a basic business insurance. And then, there are big companies, like Pizza Hut and Domino Pizza with million-dollar accident coverage.
Pizza Delivery Franchises
Many pizza delivery businesses are franchises and their car insurance coverage could be different from the franchisor or a headquarter restaurant. The only way to know the details is for attorney to investigate the insurance policy and the details of the accident.
When Personal Car is Used
If a personal car was used to deliver pizza and business insurance denied the claim, the claim should also be submitted against driver's personal car insurance. There may also be a reason to challenge the business auto insurance policy in court.
Will Personal Car Insurance Cover the Pizza Delivery Drivers Accident?
It depends on what kind of personal car insurance the driver has. If the insurance policy clearly states that it excludes any business use of the car and the driver used the car to make money, the insurance company may try to deny the claim.
Insurance Policy Limit
The maximum coverage of any car insurance policy plays a very important role in any personal injury lawsuit and this includes pizza delivery driver accidents. The maximum coverage of a big pizza chain could be in the millions, while a personal car insurance often only meets the minimum limit required by law in Nevada.
Accidents When Someone Else's Car Was Used for Deliveries
It is not unusual in Las Vegas, especially for the young drivers, to use their parents' car for pizza deliveries.
If the driver used their parents' car during a pizza delivery accident, then the parents' insurance may have a duty to provide coverage. If the pizza company insurance is also involved, then the respective polices may have special provisions for which policy is primary. In some accidents both insurance policies can easily apply.
Questions? Call us at 702-432-1000.
After the Accident
If you got in an accident involving a delivery driver or you are a delivery driver who got in a collision with another vehicle, here is your short checklist.
Check if anyone needs medical help
Get the names, addresses and insurance information of all drivers involved
Take many pictures of the scene, especially pictures of restaurant / pizza store logo and pizzas in the front seat and anything else that shows that driver was at work.
Today, it's easy to do at the scene with a smartphone.
Contacting the At Fault Driver Insurance Directly
An important question that comes up frequently is, "In pizza delivery accident cases, can I contact the at fault driver insurance directly?"
If you were injured in a pizza delivery accident and you want to get compensated for your current medical bills, future medical bills, lost wages and other damages, it is better to let an attorney to submit and negotiate your claim with the at fault drivers' insurance.
On the other hand, when nobody was injured and only personal property was destroyed, and you are seeking a so-called "car accident no injury settlement," you can contact the at fault drivers' insurance yourself. In most cases, you don't need an attorney for that.
If the At Fault Driver Has No Insurance
The claim still can be submitted against your own personal insurance or your business insurance when you have an uninsured motorist coverage / or underinsured motorist coverage.
How Uninsured/Underinsured Motorist Coverage Works in Pizza Delivery Accident Cases
Having uninsured or underinsured coverage is not required by law. This is something that a business owner or personal car owner buys when car insurance is purchased.
This kind of insurance is supplemental and costs extra. Even passengers, who are victims of pizza delivery accidents, can access the uninsured and underinsured policy of the vehicle that they are in.
Multi-Vehicle Accidents
Multi-vehicle accidents are more complex and it takes longer to settle because more parties are involved. But the good news is, if multiple drivers are involved, multiple insurance policies may apply. This means it can add tremendous value to the case.
Can I File My Claim Later?
In Nevada, the statute of limitation for negligent auto accident cases is two years. Even if you didn't file a lawsuit immediately after the accident, you are still entitled to compensation. In fact, it is quite common for people to not feel pain immediately after the accident. Only when the initial shock is gone, do many people start feeling pain.
Part-Time Pizza Delivery Drivers, Full-time Pizza Delivery Drivers - Does It Affect the Claim?
For the purpose of filing a claim after an accident it doesn't matter if the driver involved in an accident was a part-time pizza delivery driver or a full-time. In fact, most of pizza delivery drivers work part-time to make extra money. What is important, that the pizza delivery driver was "on the job" when the accident happened.
We Can Help
The attorneys at Heshmati & Associates handled many pizza delivery driver cases in the last few years.
We take all delivery driver accident cases on a contingency basis which means - you only pay if we get settlement money for you.
Call us at 702-432-1000 with any questions you may have.
We serve clients in Las Vegas, Summerlin, North Las Vegas, Henderson and the rest of Nevada.
Related Articles