Las Vegas Pedestrian Accident Attorney Explains Liability Claims
---
Pedestrian Accident Cases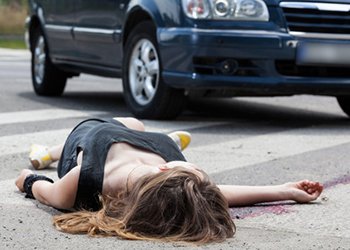 If you, a relative or a friend has been injured in a pedestrian accident in Las Vegas, Nevada, call us at 702-432-1000 to discuss your case. While nobody can reverse the unfortunate event of the pedestrian accident, we can help you to get a monetary compensation for your medical bills and pain and suffering.
Pedestrian Accidents: Definition
An accident is a pedestrian accident when it involves a vehicle and a person outside of a vehicle.
After Pedestrian Accident
When pedestrian accident happens, after the first shock is gone, the big question becomes: (1) who is liable for the accident, and (2) how to get a fair settlement or jury trial?
Who is Liable?
The Careless Driver. The driver of the vehicle has duty of care is to act reasonably and obey the traffic rules of the road. The drivers owe a duty of care to not only other drivers but also to pedestrians. When the driver is negligent and breaches the duty of care, he or she is liable for the accident.
The Property Owner. If a pedestrian accident occurred on private property, the property owner may also be liable. When property owner knows that their property carries lots of foot and vehicle traffic, they have a duty to separate pedestrians from vehicles or at least to warn both pedestrians and drivers that they are near each other (e.g., clearly marked crosswalk for pedestrians to enter a casino.)
Other Liable Parties
There are many other parties that may be found liable for the accident. Here are a few:
The company that manages the property
The vehicle owner (an individual or a corporation)
The vehicle manufacturer(s)
The vehicle parts manufacturer(s)
The vehicle repair shop
The road sign manufacturer (e.g., a poor quality sign broke from the wind or other bad weather conditions)
The road signs installation company (e.g., the sign was installed in a wrong place)
The road sign maintenance company (e.g., the road sign was stolen or broke, but it was never replaced)
Is the Driver with a Medical Condition Liable?
Yes. Even if the driver who caused an accident felt dizzy or disoriented because of the prescription medication, or if the driver had a heart attack, seizures, or lost conscious while driving, regardless, in the eyes of the law - if the accident happened, the driver is liable.
If you are a victim of a pedestrian accident caused by the driver with a medical condition, call us at 702-432-1000 to discuss your case. We can file a claim on your behalf against driver's car insurance and get you a monetary compensation for your medical bill and other damages.
Self-Driving Cars and Pedestrian Accidents
Self-driving cars are the new players on a road. Most states, including Nevada, don't have specific laws for self-driving cars. So, if a pedestrian accident happened and a self-driving car is involved, the same rules applied as in any other auto accident - the attorney must prove that negligence caused the accident, connect the negligence to the victim, and file a claim to get monetary compensation for all medical bills (past, present and future) and other damages.
Issues / Challenges of Pedestrian Accidents
Pedestrian Accident Caused by a Hit and Run Driver. Sometimes the at-fault driver flees the scene of an accident in order to avoid criminal charges and if there are no witnesses and no surveillance video tapes available, getting a fair settlement can be very difficult.
Crosswalk Accidents. Typically, if a pedestrian accident happened on a crosswalk, the first question is asked - was the victim in the crosswalk or outside of the crosswalk?
Memory Loss. In many pedestrian accidents an ambulance is called and a hospital stay is required. It is not unusual for the victim of a pedestrian accident later to have no recollection of how the accident happened. Often, all the victim of a pedestrian accident can tell, "I woke up in a hospital."
How a Pedestrian Accident Attorney Can Help
If there are gaps in the story how the accident occurred, all is NOT lost. There are many things that a good pedestrian accident attorney can do to complete the story. This includes: (1) bringing the accident reconstruction experts, and (2) writing preservation letters to nearby businesses requesting to preserve video surveillance tapes.
If you got injured in a pedestrian accident, call us 702-432-1000 to speak with a pedestrian accident attorney directly.
The initial case review is free. The attorneys at Heshmati & Associates take all personal injury cases, including pedestrian accidents, on contingency basis. There are no fees or costs unless a recovery is obtained for you.
We serve clients in Las Vegas, Henderson, North Las Vegas, Summerlin, Mesquite and throughout Nevada.
Related Articles