Negligent Security Accidents in Las Vegas
---
What is a Negligent Security?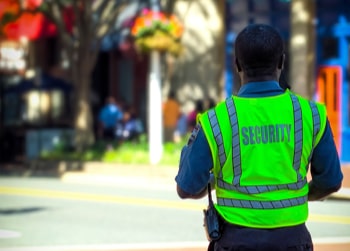 When you are on someone else's property – whether it is a Las Vegas hotel, casino, nightclub, parking garage, shopping mall, gas station or a major sporting event - you have certain expectations of safety and security. If you were robbed, assaulted, injured or raped due to negligence of the person or corporation that is responsible for your safety, you can sue, claiming negligent security.
If you believe you have a case, call us at 702-432-1000 to talk to a negligent security lawyer directly.
Is it Negligence or Not?
In Nevada, in order to succeed in a negligence lawsuit, the lawyer needs to prove two things:
Foreseeability of an accident
Preventability of an accident
To prove foreseeability, a negligent security lawyer first will question if security handled a situation correctly, and, if no security was present, should there have been security.
Next, the lawyer will check the crime history for the neighborhood and crime history on the premises. If the owner of that property knew or should have known about of these crimes - the accident was foreseeable. For example, if at a shopping center garage ten people were attacked in the last 2 months and the attacks were reported to the police - it has become foreseeable that more attacks will happen in the same location and extra security is needed.
To prove preventability, a negligent security lawyer will look into what kind of measures the property owner took to prevent the crime and/or harm. Did the owner install lighting, reliable surveillance cameras, hired security, replace broken or weak locks, displayed warning signs "No Trespassing" or did the owner do absolutely nothing?
If the negligent security lawyer can prove that the incident was foreseeable and could have been prevented - you have a negligent security legal case.
The criminals usually attack in places that are the most vulnerable, places with poor lighting, no surveillance cameras and no security guards.
Duty of Care in Negligent Security Cases
Nightclubs, casinos, and hotels have a legal "duty of care" or obligation to protect their patrons from foreseeable events that could result in personal injuries. The law expects security personnel to be trained to diffuse potentially dangerous situations in public places and prevent the accidents. When security fails to protect the patrons or makes a situation worse, security breached their "duty of care" and is responsible in the eyes of the court for the accident.
Who is Liable?
There are many parties who may be liable for an inadequate security. Here is only the partial list:
Owner
Manager
Occupier of the Premises
Security guard company
Individual guard (s) on duty
Keep in mind, many defendants can be held responsible to pay for the damages caused by the same negligent security accident.
When Multiple Victims Involved
In Nevada, when multiple victims were involved in a negligent security accident, all victims who filed a claim should get compensated for medical bills, lost wages, pain and suffering.
Experts in Negligent Security
In negligent security lawsuits, usually expert witnesses are hired by both plaintiff and defense attorneys. Often, the former police officers, security directors, and FBI agents serve as security experts during negligent security trials. Experts evaluate surveillance equipment, hiring procedures for security guards and hotel personnel plus many other things to determine how foreseeable was an accident.
Las Vegas Nightclubs and Negligent Security
Las Vegas is famous with its nightclubs and nightlife. It is very unfortunate, but the nightclubs can become magnets for assaults and even shooting. Nightclubs have specific safety guidelines, including:
Installing metal detectors or performing manual search for guns, knives, drugs
Training bartenders to stop serving alcohol for already intoxicated patrons
Doing thorough backgrounds check for the nightclub security
Monitoring parking areas
This is a very partial list. The real list is much longer. If the nightclub didn't comply with these guidelines - the accident was foreseeable and the nightclub failed to protect its customers.
If this happened to you, call us at 702-432-1000 to discuss your case.
Las Vegas Hotels and Negligent Security
Las Vegas hotels are packed with security guards and surveillance cameras. Some of security guards are wearing uniforms and some are not, but they are always present. The more expensive Las Vegas hotel is - the more sophisticated surveillance equipment will be installed. And, still, accidents happen.
Typically, in a hotel negligent security case, the attorney looks into:
How the attacker went unnoticed in the hotel?
Were the surveillance cameras working?
Did the victim know the attacker or was it a domestic violence dispute?
Was it in inside job?
Was there an adequate lighting in the area where accident happens?
Most important - was the accident foreseeable and could it be prevented if hotel followed the security guidelines and norms?
Each case is different and the circumstances surrounding each case are different too.
If you were attacked while staying in Las Vegas hotel, give us a call at 702-432-1000. Often on a phone we can tell you if you have a case and what to do next.
Las Vegas Casinos and Negligent Security
Casino patrons carry large amounts of cash and game chips. This makes them excellent targets for pickpockets and thieves. Hotels parking lots are the most vulnerable area for assault and robbery crimes. Most of Las Vegas casinos have security guards on duty all the time, but sometimes casino security fails to protect their patrons.
If you were assaulted, robbed, or injured in Las Vegas casino, call us to discuss your accidents.
The Statute of Limitation in Negligent Security Cases
Under Nevada law, you have two (2) years from the date of an accident to file your lawsuit.
Negligent Security Lawyer Can Help
Attorneys at Heshmati & Associates have experience in handling negligent security claims in Las Vegas nightclubs, hotels and casino. They will analyze the circumstances surrounding the accident, determine who is liable and will seek a compensation for all medical expenses, also recover compensation for your medical costs, pain and suffering, lost wages, and loss of your normal life.
Attorneys at Heshmati & Associates take all negligent security cases on a contingency basis which means - you don't have to pay until the attorney wins your case.
To discuss your case, call a negligent security lawyer at 702-432-1000 directly.
The initial consultation is always free.
The attorneys at Heshmati & Associates represent clients in Las Vegas and throughout the surrounding areas of Nevada.
Additional Resources
Related Articles