Parish D. Heshmati, Esq.
---
Parish Heshmati Bio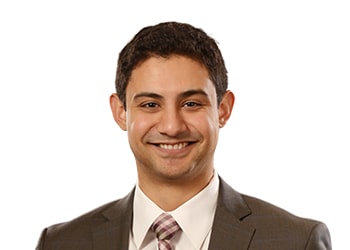 A single word sums up Mr. Heshmati's legal career – Results. Nothing matters more for Mr. Heshmati than getting the best result for his clients.
This client-oriented attitude coupled with a relentless work ethic has helped ensure countless success stories for Mr. Heshmati and his clients.
Mr. Heshmati honed his client driven philosophy while attending the nationally recognized Boyd School of Law, in Las Vegas, Nevada where he successfully advocated on behalf of juveniles, even before receiving his law license.
His continuing success in the law field includes settling high value personal injury claims as well as negotiating drug trafficking conspiracies and business crime cases.
With a reputation as a formidable attorney in Nevada and California, Mr. Heshmati, together with his brother Parviz Heshmati, Esq., has forged a client driven approach to practicing law that continues to deliver results.
When not working, Parish enjoys travel.
Bar Admission
State Bar of Nevada
State Bar of California
State Bar of Utah
United States District Court
Clark County Bar Association
Education:
William S. Boyd School of Law, University of Nevada, Las Vegas, Juris Doctorate (J.D.)
University of Nevada, Las Vegas, Bachelors in Finance
Legal Associations
National Association of Criminal Defense Lawyers
Nine Circuit - United States Court of Appeals
State Bar of Nevada
Supreme Court
Nevada Justice Association NJA)
Panel Member
State Bar of Nevada, Southern Nevada Disciplinary Panel
State Bar of Nevada, Fee Dispute Committee
Notable Cases
2015 Churchill County v. McFarland (multiple felony drug charges / DUI)
2014 City of Las Vegas v. Puebla (wrongful DUI conviction)
2014 State of Nevada v. Viscarra (drug trafficking)
2013 United States of America v. Petroiu (Internet fraud)
2013 United States of America v. Camez (credit card fraud)
2013 State of Nevada v. Flores (immigration / deportation case)
Contact Info
Contact Mr. Parish D. Heshmati to speak to with him directly if you have been arrested or planning to file a personal injury lawsuit.
Phone: 702-432-1000
E-mail: parish@halo-attorneys.com
Read more about Mr. Heshmati's most recent case results.
Giving Back to the Community
Heshmati & Associates criminal defense and personal injury attorneys are proud sponsor of:
• Club Christ After School Program
• Backpack for Kids in Las Vegas
• The Huntridge Foundation