Slip & Fall Accidents in Las Vegas, Nevada
---
What is Slip and Fall / Trip and Fall Accident?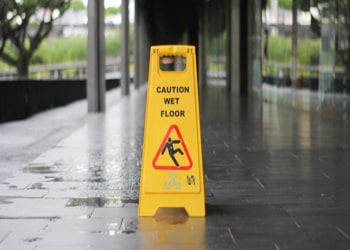 A slip and fall accident becomes a personal injury case when the business fails to keep their property safe.
Slip and fall accidents can happen for a variety of reasons and in many different locations but all slip and fall accidents that become lawsuits have one thing in common: the business that manages the premises was negligent.
Where Slip and Fall Accidents Happen
Slip and fall accidents have happened in every kind of business that a person can think of, but some of the more common places include:
Restaurants
Grocery store isles
Casinos
Hotel hallways
Convenience stores
Apartment complexes
These places experience more slip and fall accidents because they handle a large volume of people in confined spaces.
At the same time, even if a slip and fall happens somewhere else, you could still have a very strong personal injury case. The best way to know what kind of slip and fall case you have is to talk to an experienced personal injury lawyer.
Causes of Slip and Fall Accidents
A business has a duty to inspect the premise on a reasonable basis.
When there is a hazardous condition on the ground, the business has a obligation to warn customers and patrons. When they fail to do this and someone gets hurt the business is liable.
There are many reasons why slip and fall accidents happen. Some common examples include:
Wet and greasy slick floors
Damaged floors and steps
Cracked sidewalks
Torn carpetings
Poor lighting
But even if your slip and fall was caused by something else you may still have a serious case. The important questions are:
Did the business know of the hazard or should they have known of it?
Was the hazard hidden or did the business try to warn people of the hazard?
If the answer is yes, then most likely you have a legal case. You may be eligible for money compensation, not only for your medical bills, but also for your pain and suffering.
Slip and Fall Settlement Amount
Settlements for slip and fall accidents in Las Vegas can vary tremendously. Of course each case is unique and with its own set of facts. However, some slip and fall cases can settle for millions of dollars.
Heshmati & Associates:
Las Vegas Slip and Fall Lawyers
In the last few years personal injury attorneys at Heshmati & Associates handled many legal cases caused by slip and fall accidents.
Our no-fee promise. We take all slip & fall cases on a contingency basis, which means for you - if we are not able to get you settlement money then we don't get paid and you don't owe us anything.
If you are planning to file a slip and fall lawsuit in Nevada, call our office today to speak with one of our knowledgeable slip and fall attorneys directly.
Initial consultation is always free.
Walk-ins are welcome!
Heshmati & Associates attorneys serve the greater Las Vegas area of South Nevada, including Las Vegas, Henderson, Summerlin, Clark County, and North Las Vegas.
Our number is 702-432-1000.